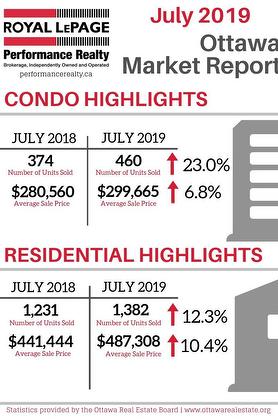 Hot Market in a Scorching July
August 6, 2019
Members of the Ottawa Real Estate Board sold 1,842 residential properties in July through the Board's Multiple Listing Service® System, compared with 1,605 in July 2018, an increase of 14.8 per cent. July's sales included 1,382 in the residential-property class, up 12.3 per cent from a year ago, and 460 in the condominium-property category, a rise of 23 per cent from July 2018. The five-year average for July unit sales is 1,579.
 
"Typically, after the busy spring, July tends to be a slower month as people take vacations and spend more time with their families, but there was no slow down this past month," observes Dwight Delahunt, President of the Ottawa Real Estate Board. "In fact, we recorded the highest number of July sales in 15 years."

"Also, for the first time in 2019, there was an upsurge in new listings which has slightly improved housing inventory. Although this is encouraging news, it is not enough to keep up with demand. In order to bring about a more balanced market, there needs to be at least a three-month supply of listings. Currently, Ottawa is closer to a one-month supply," he adds.
 
"In this type of market, it is vital that Sellers utilize the experience and advice of a REALTOR® to maximize your property's potential — and if you are a Buyer, to guide you through the complexities this intricate market presents," Delahunt recommends.
 
July's average sale price for a condominium-class property was $299,665, an increase of 6.8 per cent from last year while the average sale price of a residential-class property was $487,308, an increase of 10.4 per cent from a year ago.*
"Residential house prices continue to increase; however, these are reasonable gains and are not creating a bubble by any stretch," Delahunt maintains. "Condo prices have now recovered, and the oversupply in that sector no longer exists. Ottawa has a healthy condo market and with major developments coming online in the future, we expect these too will be absorbed in due course."
 
The $350,000 to $499,999 price range was the most prevalent price point in the residential market, accounting for 42 per cent of July's transactions while 28 per cent of residential sales were in the $500,000 to $749,999 range. The most active price point in the condominium market, $225,000-$349,999, accounts for 52 per cent of the units sold.
 
When asked about how the upcoming federal election might affect the real estate market, Delahunt emphasizes, "We continue to believe the stress test is negatively impacting our housing market and look forward to hearing about how the various parties intend on addressing this contentious issue as the election approaches."
 
In addition to residential sales, OREB Members assisted clients with renting 1,619 properties since the beginning of the year.
 
* The Board cautions that the average sale price can be useful in establishing trends over time but should not be used as an indicator that specific properties have increased or decreased in value. The calculation of the average sale price is based on the total dollar volume of all properties sold. Price and conditions will vary from neighbourhood to neighbourhood.


Source: Ottawa Real Estate Board
MAKEITHAPPEN E-Newsletter Volume 8
Not long ago we shared that frosty winter but the heat is coming, hopefully, and it seems we're surfing a wave of wonderful real estate!

Welcome to the latest edition of the @makeithappenrealtors e-newsletter.
Spring is finally here and the real estate market is in full bloom. Across the Nation's Capital, home prices are surging. Lately, many neighbourhood values are appreciating by 1% or more, month-over-month. That's a good investment.

From upmarket condos to a hillside home with the most epic views, we are dealing with some seriously hot properties. Read on for an insider scoop of our upcoming projects and a couple of occasions for us to catch up!
(Click the above photo for video presentation)
1587 Lilac Lane:
Half acre hillside property with the most majestic water view setting! Along the Cumberland Ridge, this unique home is on a dead end lane with top of the world vistas.
Open House: Sunday, June 9, 2-4 pm
75 Cleary Av. unit 409: 
With modern finishings and a fantastic use of space, this one bedroom apartment is sure to please. The floor plan is totally open concept with lots of natural light and huge windows.
1014 Bank St. unit 306:
Here's a flexible studio space with amazing views of TD Place and Landsdowne Park as well as Bank Street bridge and the Rideau Canal.
48 Elmbank Cres:
On a quiet crescent, in one of Nepean's most desirable areas, there's a 4-bedroom house coming soon for sale that sits on a marvelous pie-shaped lot and offers tremendous potential. 
 
31 Binbury Cres:
Meticulously maintained and clean as a whistle, this end unit townhouse is sure to be popular with the first time buyers! Watch for this sun-filled home in Greenboro, later this month.
 
492 Sesame St:
Winning in Winchester! It's the grand family home of your dreams, without a big mortgage. Growing families will be very comfortable in this stately brick home, in a small town just south of Ottawa.
 
Shaw Centre: June 8 & 9
This weekend, we are proud to participate alongside Ottawa's LGBTQ+ community at the inaugural QueerSphere Expo. Find our 'living room' booth and stay for a coffee and Netflix!
Plan a stroll along the Canal and pop by to see us sharing the 'make it happen' magic with dozens of vendors covering a variety of industries and every colour of the rainbow.

Show hours: Saturday, 10 am - 6 pm & Sunday, 11 am - 5 pm
Sweet Sanctuary Fundraiser
There's an amazing animal sanctuary that we love to support and June 27 is their big event. Even more exciting, we're extending an invitation to you.

Here's a chance to learn about the labour of love that our dear friends Sarah and Steve sustain to raise a truly unique farm family. It promises to be an evening of fun with us and animal lovers alike! Orange Art Gallery, 7 pm 'til late.

Click here for ticket information.